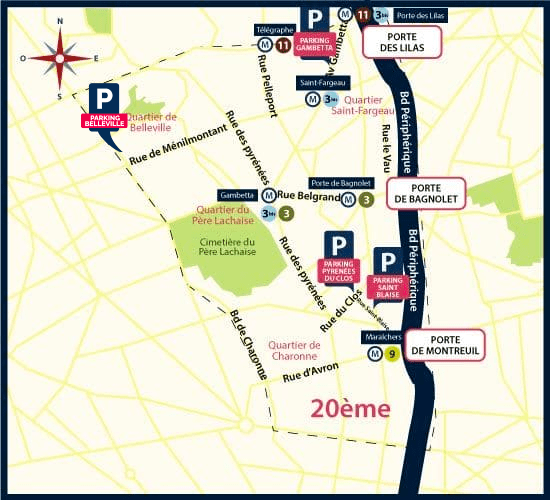 our parking Paris 20
Gambetta car park: 211 Avenue Gambetta, 75020, Paris
Pyrénées-du-Clos car park: 4 Rue du Clos, 75020, Paris
Saint Blaise car park: 70 rue Saint Blaise 75020 Paris
Belleville Ménilmontant car park: 30 boulevard de Belleville 75020 Paris
Paris' 20th arrondissement (post code 75020) is one of the city's most densely populated arrondissements. It has a population of around 200,000, making it the third most populous arrondissement in Paris.

The 20th arrondissement is known as the home of the famous Père Lachaise cemetery.

Hôpital Tenon (75020) and Hôpital Croix Saint-Simon (75020) are also located in Paris' 20th arrondissement.

is is extremely difficult to park your car on the street in Paris' 20th arrondissement. This is due in part to the high population density, with the majority of local residents owning residential parking cards, meaning that locals occupy the majority of spaces in the 20th arrondissement.

Many people travel to the area each day to work in the numerous offices and shops in the 20th arrondissement, which also further stretches demand for a limited number of parking spaces.

It is also important to remember that the city council's recent policy, introduced to reduce congestion on the city's streets, has resulted in improved public transport provision but a substantial reduction in the provision of on-street parking in Paris.

The 20th arrondissement has undergone substantial road redevelopment work, including the creation of tram lanes and the introduction of new Vélib' and Autolib' stations. This has inevitably led to a dramatic reduction in available on-street parking spaces in the area.

Parking your vehicle in an hourly or monthly public car park is now the only viable alternative, avoids the risk of incurring fines or having your vehicle towed away, and helps to alleviate potential stress.

Paris France Parking is the leading parking provider in the 20th arrondissement, with three car parks available in Gambetta (Gambetta car park 75020), Pyrénées (Pyrénées-du-Clos car park 75020) and Saint-Blaise (Saint-Blaise car park 75020).

These recently renovated, patrolled car parks are monitored and accessible 24/7.
They offer rates with or without long-term commitments, with hourly, monthly and annual options available for all vehicle types.