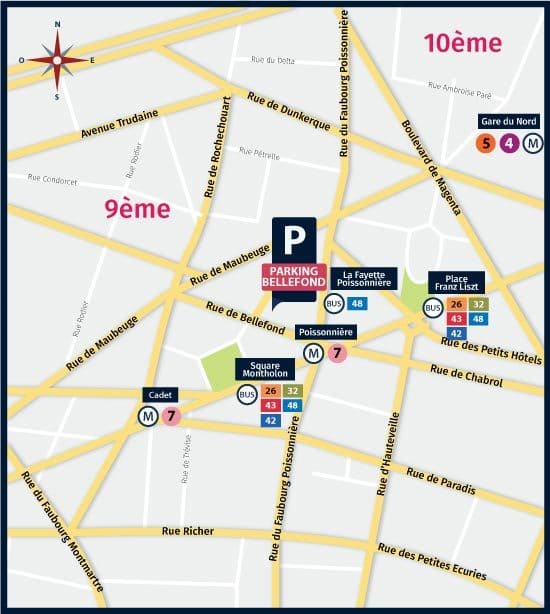 our parking Paris 9
Bellefond car park: 10 Rue de Bellefond, 75009, Paris
Paris' 9th arrondissement is one of the smallest by surface area (around 0.85 square miles) and its postcode is 75009.
The arrondissement is located on the right bank of the Seine, and is divided into two main districts:
the Chaussée d'Antin district and the Faubourg-Montmartre district.
Despite its small size, it is one of the most densely populated arrondissements in Paris, with a population of around 60,000.

This arrondissement in the city centre is famous for its prestigious buildings such as Opéra Garnier, Musée Grévin, Olympia, Casino de Paris and Galeries Lafayette.
The roads in the 9th arrondissement are extremely congested, as it is crossed by some of the major roads linking key destinations in Paris.
The council has undertaken several road redevelopment projects in recent years to improve public transport. This has resulted in a substantial fall in the availability of parking spaces. These days, it is almost impossible to park in the 9th arrondissement of Paris without committing an offence. Trying to find a free space among the bus lanes, cycle lanes, loading areas and coach parking areas is a real challenge!
To avoid the hassle, you should consider parking your vehicle in a secure car park. The Bellefond car park (75009) is located close to Rue de La fayette (75009) and the Poissonnière metro station.
It offers parking spaces all year round and is open and guarded 24 hours a day.
It offers a range of subscription options for passenger cars and two-wheelers alike.